Dear Mr. David Tennant,
Ahem
WHAT ARE YOU DOING?
First you just had to go and do Nativity 2, (which of course I'm going to see, but God help me I'm not going to be happy about it.) You just had to do a campy kid's Christmas film that I heard was a bitch to make because of all the animals and children involved. And you know what, fine, whatever, you've got kids now, do a children's film. Totally understandable. I love The Pirates! But a sequel???? Not only that, but a sequel in which you're performing in the shadow of Martin Freeman???? Why would you do that to yourself??? Are you trying to set yourself up for failure? I mean, don't take this personally, but the first film, while equally campy, seems a fair bit more legit than the one coming out this Christmas.
And now, NOW, you've signed on to host a reality television show???????
A show that seems akin to "Last Comic Standing????"
DAVID.
YOU ARE THE HAMLET OF YOUR GENERATION.
YOU'RE A THEATRE GOD. 
THE RSC PRACTICALLY WORSHIPS YOU.
YOU COULD BE ON BROADWAY IF YOU REALLY WANTED TO BE. 
Do you even KNOW how many celebrated BBC miniseries you have under your belt?
You managed to bank a big Holly Wood film not too long ago! Remember that? Fright Night? Yeah sure it flopped at the box office but it was fairly critically successful, particularly for a horror film. And really the only people who had a problem with it were the fanboys with sticks up their asses about them remaking a "cult classic." And I'm sorry, call me a "whipper snapper" with no taste, but the original is a campy eighties farce. I think it's a horror film that has outlived it's impact. It's not timeless and, much the same way I feel about Total Recall, was completely and totally due for a remake. 
Shit! Call in a favor! You've worked with the likes of Martin McDonagh, Jim Broadbent, Andrew Garfield, Dame Maggie Smith, Michael Gambon, Kelly McDonald, Colin Ferrell, Colin Firth, Andy Serkis, Matt Lucas and I KNOW for a fact that you're good personal friends with Benedict Cumberbatch and Mark Gatiss.
SHIT. Steven Moffat seems to be doing pretty damn well for himself. Get yourself a part in the third season of Sherlock! Play a villian! You're good at that!
I understand that you're an actor. You work. That's what you do. And if it's about money, if it's about paying the bills, then I understand 100%. You gotta do what you gotta do when you work in the performance industry.
But know that you're better than a reality TV show. I know it's been a few years since Doctor Who, but you've gotta still have a little bit of choosing power when it comes to your projects. Just don't become one of those brilliantly talented and versatile actors who gets dragged down by poor choices. Don't be Anne Hathaway. She's damn good, but all you hear about are her romantic comedy flops. Forget that she's done Shakespeare to much acclaim in New York. Forget about her extensive musical background. As soon as she gets cast in anything with merit the internet instantly rears its ugly head and all people talk about is how she's ruining everything! She was fucking brilliant in The Dark Knight and Brokeback Mountain and all people do is complain when she's cast. 
Don't become that.
Because I'll have to murder you.
You have more talent in your tongue and right eyebrow than most actors working in Holly Wood today. 
SO STOP IT.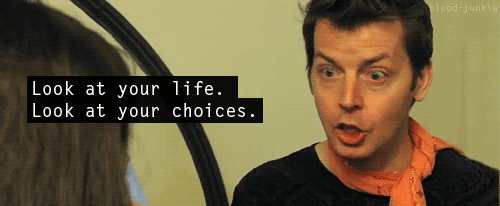 Love,
Tori
P.S. I still admire you beyond reason. Don't forget to be awesome. Seriously. DON'T.